Michael Spaulding Koo Self Defense

At age 40, exhausted and stressed after work, suffering chronic knee pain, I decided to look for a fitness program. Having failed with a home fitness program I pursued an interest in karate. Most Karate schools have few week-day classes and focus on learning countless katas or forms.

On October 11, 2001, I walked into Koo Self Defense Institute. Founder, Master Roger Koo assured me that Koo Self Defense provides a total body work-out, unmatched punching and kicking power, multiple classes. Practical punching and kicking replaced hours of learning katas.

My first class was exhausting. A twenty six minute aerobic routine, twelve minute stretching (yoga), was followed by 20 minutes of kicking and punching shields and mitts. Students' punching and kicking power was impressive.

Subsequent classes were as exhausting as the first. A variety of aerobic, punching/kicking drills provide a constant physical challenge. Health club aerobic classes are routine, students physically adapt and no longer receive any cardiovascular benefit.

After five months of classes, my stamina, strength and work related stress have improved. My resting heart rate has decreased from 76 to 54 beats per minute. This is a result of refusing to believe that I was too old to become physically fit. I was determined, despite exhaustion and muscle ache, to give 100% each class.

VIDEO CLIPS Taken April 2002. Started training at Master Koo's studio, Downtown Cartersville, Georgia, USA on October 12, 2001 and has done 72 classes to the day of photos and video clips.
Power Drills Class - 1800 non stop hits
Power Drills Class - Hands Addon Hits 2,4,6,8
Power Drills Class - Hands Addon Hits 2,4,6,8
Power Drills Class - Kicks "spaghetti -Free Choice"
Power Drills Class - Hands Addon Hits 2,4,6,8

For more information about Koo Self Defense, visit Master Roger Koo's web site, link below

Photo of POWER BREAKING (4 boards) plus some other breaking techniques for my Black Belt Test, August 23, 2003 which I passed with a score of 109/115, missed only 3 first time break of of 52.

For the Koo Self Defense Black Belt test, I had to break brand new plastic rebreakable boards with both hands and both feet using different techniques on FIRST ATTEMPT. At the end of the test, I had to do my POWER break which involved 4 boards with any technique of my choice. I chose spinning side kick.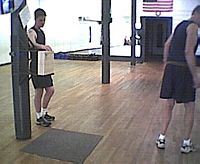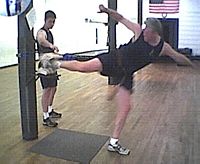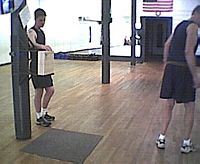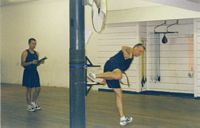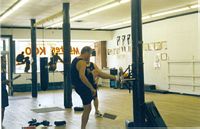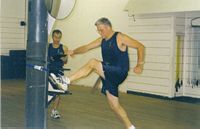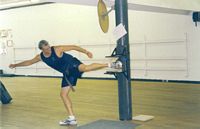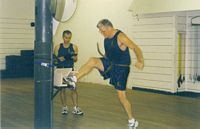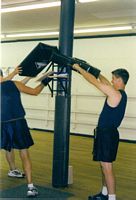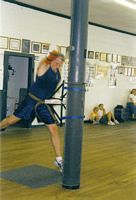 View My Guestbook
Sign My Guestbook
[ Home ] [ Kicking Photo Album ]
[ Punching Photo Album ]
[ Koo Self Defense International ]